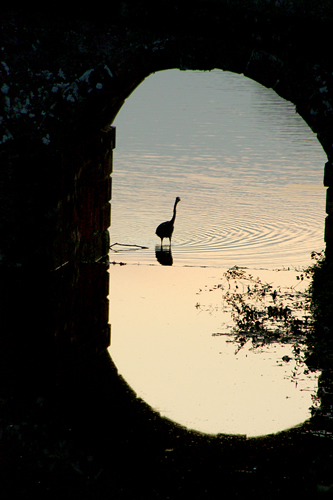 Four sculptors, Paul Boswell, Fiona Campbell, Rachel Mcleay and Anthony Wilson  have created a sculpture trail at Stourhead entitled Beyond the Garden Gate. This is something not to be missed, particularly by families.  Open daily all September this exhibition gives us all an added reason to visit this fabulous National Trust property.
Amazing, unexpected, inventive, funny, entertaining and wonderfully sensitive to the environment, each piece shows real care in the way it is placed to add to the interest of its setting.  At the same time while the style and originality of each sculptor is evident, their creations all work well together. Going around on the opening evening, when the light of the setting sun reflected off the still water of the lakes and pools capturing the rich greens, golds and browns of the landscape, the atmosphere was magical. All around one heard laughter and exclamations of surprise and wonder.
Just to make it a bit more like a trail some of the images just show Stourhead with not scupture at all.
See 10 more images at www.wincantonwindow.co.uk